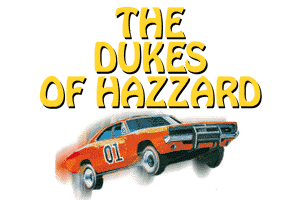 The 'General Lee'
1969 Dodge Charger R/T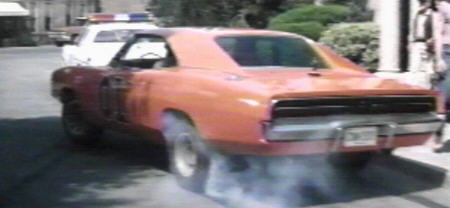 The Continuity of this show makes it fairly difficult to nail down exact specifications. For example, the General Lee has been depicted with a 4 speed console mounted manual transmission (Repo Men, first season), a column shifted Automatic (fourth season, Mean Green Machine) and a console mounted Automatic (Duke Vs. Duke, third season).

Overall, the vehicle is best defined by the following performance spec:
---
Holley 4 Barrel 750 cm Carburetor
440 Cubic Inch Wedge OHV 16 valve V8 (7194 cc / 7.2 Litres)
375 Horsepower @ 5000 RPM
490 lbs of torque @ 2400 RPM
Transmission: 727a Torque 3 Speed Automatic Console Mounted
Interior: Tan with Console and Rallye Gauges and 3 point roll cage
0-60 mph in 5.4 seconds (estimated)
1/4 mile: 13.6 seconds @ 104 mph (estimated)
Top Speed: 135 MPH (Drag Limited)


Body:
---
1969 Dodge Charger R/T (Road and Track)
Exterior: 2 Door Fastback Coupe
Aftermarket Components: Front Bumper Guard, CB Antenna, Hurricane Road Wheels
Manufactured: Newark, Delaware


Exterior:
---
Color: Orange
Special Items: "01" Painted on Doors, "General Lee" and a confederate flag on the roof of the fastback
Note: R/T Blackout Tail light cluster retained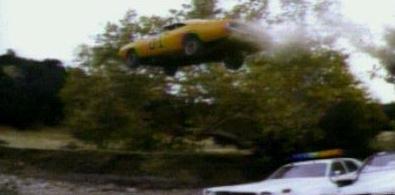 Year By Year
The Chargers on Dukes of Hazzard

---
1978
---
The first 5 episodes of the Dukes of Hazzard were filmed on location in Atlanta and Covington, Georgia. The vehicles were purchased from local Georgia used car lots (as well as Daisy's Plymouth Road Runner). A total of 11 1969 Dodge Chargers were used in the first 5 episodes. Only one of these cars from Season One is known to exist today, apparently used in the episode Daisy Song. This vehicle's documentation is still a bit sketchy, but the car in question is parked in a museum in the northeast. After the first five episodes of the Dukes of Hazzard aired on CBS to solid ratings, it was picked up for another season.


---
1979 - 1980

---
In 1979, production of the Dukes of Hazzard would move to the Warner Brothers Sound Stages and Backlot located in Burbank, California. 26 Dodge Chargers were purchased for Season Two. This is the first year that 1968 and 1970 models were used on the show. These model year Chargers were converted to cosmetically resemble the 1969 model year as best as possible. However, most of the time -- the production company would leave the existing quarter panels of the 1968 Charger (easily distinquished by its small round parking lamps versus the 1969 model's large rectangular units). Also, this season had major continuity problems for the General Lee's interior. It was depicted in several color including Black (episode: Luke's Love Story). A total of 42 Dodge Chargers for this season were purchased, all of which were destroyed.


---
1980 - 1981

---
Records are hard to come by, but the best sources point to nearly 28 Chargers being purchased for this season. This season also spawned a spinoff Series, entitled Enos. The show followed Enos Strait, the bumbling deputy who failed to catch the Duke Boys for 3 seasons. The new show put Enos in Los Angeles as detective. Watching these episodes, several Dodge Chargers were driven/jump into Canals -- never to be seen again. The waterways on the Warner backlot are considerably deep (up to 35 feet). Research has uncovered that these cars likely remain in the bottom of those canals today (about 8 Generals Lee total: throughout the original run of the show).


---
1981 - 1982

---
Due to disputes for royalty dispursements/compensation, Tom Wopat and John Schneider left the series temporarilily (approximately 18 episodes). In there absence, Warner Brothers scrambled to fill their absence. Actors Byron Cherry and Christopher Mayor filled in as Coy and Vance Duke, respectively. To compensate for the loss of its lead actors, the series creators tried to fill the shows with more stunts and explosives. As a result, nearly 36 Dodge Chargers were destroyed in this 18 episode period. This same season, a Dukes of Hazzard Cartoon show premiered. A total of 40 Dodge Chargers were destroyed this season.


---
1983 - 1984

---
This season, a record 46 Dodge Chargers were purchased for use on the show (out of this number, only 2 are known to survive from this season's use -- both currently owned by private owners). This season, More elaborate chase sequences and stunts were staged to combat slipping ratings. While it initially worked, the following season would prove to be the shows last (the death of the show was likely due to cheap, plastic model cars being used in the place of real car stunts -- people stopped watching). From an action standpoint, these episodes do showcase the wild stuntwork that the show was known for.


---
1984 - 1985

---
Due to the scarcity of the Dodge Charger (a boom in Muscle Car Collectors also contributed), Warner Brothers did not have the luxury of purchasing many Chargers for this season. As a result, the editors had to either dig up s stock footage for each episode or use plastic model replicas of the vehicles (which were used extensively this season). Only 9 Chargers were acquired this season, signaling that production of the show was winding down.


---
Estimated Totals:

---
Total # of Dodge Chargers Used during Original Production: 240
Total # of Dodge Chargers To Survive Production: 18
(Warner Brothers gave 17 away to private owners in 1993)



---
1997
---
In 1996, Warner Brothers contacted Gy Waldron to develop a reunion film for the Dukes of Hazzard TV Series. Warner Brothers was impressed by the successful second-run syndication the series developed on the TNN cable network. In 1997, Pre-Production began on the movie. Two 1969 Dodge Chargers were purchased (Warner Brothers had retained one from the original run). One was restored to be a 'beauty' closeup car, the other was left rough for the high speed driving sequences. All three cars survived the production of this first reunion movie. Two of the Chargers were powered by 383 cid Wedge Motors (not hi-po, so only 300 horsepower). The Third Charger only ran a 318 cid V8.


---
1999

---
In 1999, Warner Brothers once again went to Gy Waldon (series creator), to produce another Dukes of Hazzard Movie. The second movie, entitled Hazzard in Hollywood would actually feature a new jump sequence. A Derelict '69 Dodge Charger powered by a 318 V8 was purchased. This car was destroyed once the jump sequence commenced. The #1 Beauty Closeup car was John Schneider's personal General Lee Replica (he built the car in 1998 and approriately calls in Bo's General Lee). In the film, this General Lee was running a 440 Six Pack V8. This car usually runs a 426 Hemi V8, but John accidently blew up the motor a few weeks before filming was to begin. Two of the Chargers purchased for the 1997 reunion movie were freshened up and used for stunt work on this last movie. To sum it up, a total of 4 cars were used in Hazzard in Hollywood, with 3 surviving.